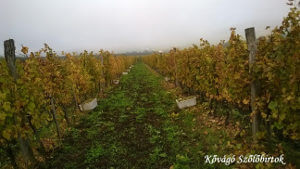 During the harvest that lasts from August to October, it is possible to purchase fresh grapes from our many different grape-varieties. You can buy the grapes either in the form of berries or in the form of must (freshly pressed fruit juice that contains the skins, seeds, and stems of the grapes.)
Should you wish to harvest the fruit yourself, have no fear, for we provide the possibility for you to do just that!
Are you a hobby wine-grower? We offer the opportunity for you to rent out a few grape-lines, cultivate them and eventually harvest and process yourself. Of course, we will help you with everything from tools to techniques you may need during any period of grape-processing.
Are you looking for an activity for team-building? You might have just found the right place!
Especially for people from the cities, it can be a great experience to just get out of the stress-filled, deadlines-filled and smog-filled city and to just enjoy the tranquillity of the countryside with birds-singing. You can harvest during the day with colleagues and enjoy the evening with our finest wines.
For more information, reservation and prices please do not hesitate to contact us:
Telephone: +36 30 6031723
E-mail: This email address is being protected from spambots. You need JavaScript enabled to view it.